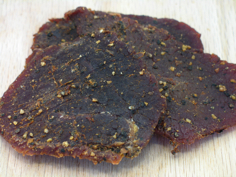 Ingredients:
10 lbs. of alligator (or any meat type)
1/2 sm. bottle onion salt
1/2 sm. bottle hot sauce
1/2 sm. bottle liquid smoke
1/8 c. lemon juice
1/8 c. Cayenne pepper
6 oz. Soy sauce
10 oz. Worcestershire sauce
Directions:
Cut strips and mix ingredients.
Marinade meat as long as you'd like. If over an hour, cover the meat and put it in the fridge.
Dehydrate according to instructions. Enjoy!