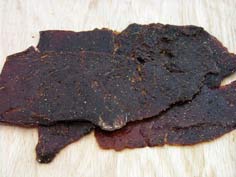 Ingredients:
2 lb. of beef – round steak (or any meat type)
1/4 c. soy sauce
1 tsp. paprika
1 tsp. black pepper
1 tsp. onion powder
1 tsp. garlic powder
1 tsp. tenderizer
2 tsp. curing salt
2 Tb. liquid smoke
2 Tb. Worcestershire
2 Tb. brown sugar
Directions:
Combine ingredients and coat the meat thoroughly.
Cover the meat still marinating in the bowl and let sit in the fridge for as long as you prefer.
Take out, rinse off and pat dry with paper towels to get the excess off.
Dry out at least 4 hours or to your preference and enjoy!
Get more recipes like this for FREE!
Do you want more recipes like this? Download our Beef Jerky Recipes ebook while it's FREE! But hurry...it's only free for a limited time!
Other Recipes You Might Enjoy
BBQ Beef Jerky Recipe
Butter Beef Jerky Recipe
Honey Peppered Beef Jerky Recipe
Caribbean Beef Jerky Recipe
12th Man Turkey Jerky Recipe
Best Ever Beef Jerky Recipe
Orange Beef Jerky Recipe
Burger Beef Jerky Recipe
Modern Beef Jerky Recipe
Honolulu Beef Jerky Recipe

RSS feed for comments on this post. TrackBack URL
We want to hear about your experiences with our Jerky Recipes! Please leave your comments on any recipe and help other jerky makers be successful. If you decide to buy Beef Jerky online, check out Jerky.com!