A common question amongst amateur jerky chefs is what cut of meat do I use when preparing my jerky?
The most commonly used cuts of meat are the top-round and the flank. Use the following color-coded diagram in conjunction with our Meat Selection page and make your jerky with confidence.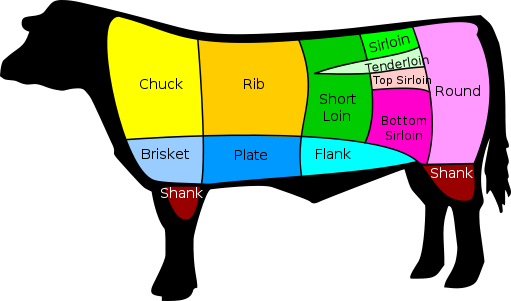 Get more recipes like this for FREE!
Do you want more recipes like this? Download our Beef Jerky Recipes ebook while it's FREE! But hurry...it's only free for a limited time!
Other Recipes You Might Enjoy
Jerky Gift Bag just added
Dead Meat Beef Jerky – Product Release!
$15 off Buffalo Bills Meat Sticks + Free Shipping
Original Jerky Recipe Content
Original Fish Jerky Recipe
Beef Sticks Recipe
Giddy Up Goose Jerky Recipe
My Biltong Beef Jerky Recipe
Beef Jerky Gifts
Ragin' Cajun Beef Jerky Recipe

RSS feed for comments on this post. TrackBack URL
We want to hear about your experiences with our Jerky Recipes! Please leave your comments on any recipe and help other jerky makers be successful. If you decide to buy Beef Jerky online, check out Jerky.com!