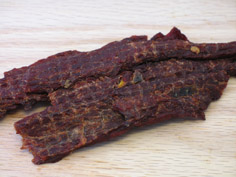 Ingredients:
5 teaspoons of ground black pepper
5 teaspoons of salt
1/4 cup of brown sugar
1 cup of red wine vinegar
1 1/2 cup of soy sauce
Directions:
Cut meat into 1/8″ thick strips.
Mix ingredients to make your marinade and let marinade in the fridge, covered, over night or to your own preference.
Set oven at 120 to 130 degrees for 7 to 9 hours, or to preference, leaving oven door ajar just a little bit for ventilation. Enjoy!
Get more recipes like this for FREE!
Do you want more recipes like this? Download our Beef Jerky Recipes ebook while it's FREE! But hurry...it's only free for a limited time!
Other Recipes You Might Enjoy
Bugs Bunny Jerky Recipe
Only Ostrich Jerky Recipe
Oh My Ostrich Jerky Recipe
Nebraska Elk Jerky Recipe
Hawaiian Islands Beef Jerky Recipe
Texas Turkey Jerky Recipe
Duncan's Duck Jerky Recipe
Thai Beef Jerky Recipe
Turkey Burger Recipe
Lemon Honey Beef Jerky Recipe

There are no comments yet... Kick things off by filling out the form below
RSS feed for comments on this post. TrackBack URL
We want to hear about your experiences with our Jerky Recipes! Please leave your comments on any recipe and help other jerky makers be successful. If you decide to buy Beef Jerky online, check out Jerky.com!