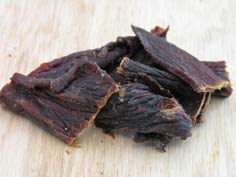 Ingredients:
2 pounds of beef (or any meat type)
1 1/2 tablespoons of Sugar
2 tablespoons of Hawaiian salt
3/4 cups of Soy sauce
1 piece of crushed ginger
1 minced garlic clove
1 crushed red chili pepper (optional)
Directions:
Slice beef into 1/4 inch strips.
Combine ingredients for marinade.
Coat strips in marinade and let set in the marinade over night in the fridge, covered.
Set oven to lowest temp., and place meat on top of foil directly on top of the racks. Keep oven door ajar for ventilation and cook to preference. Enjoy!
Get more recipes like this for FREE!
Do you want more recipes like this? Download our Beef Jerky Recipes ebook while it's FREE! But hurry...it's only free for a limited time!
Other Recipes You Might Enjoy
Hawaiian Lamb Jerky Recipe
Super Spicy Elk Jerky Recipe
Oriental Beef Jerky Recipe
Ground Turkey Jerky Recipe
Island Cowboy Beef Jerky Recipe
Hot Teriyaki Buffalo Jerky Recipe
Best BBQ Beef Jerky Recipe
Organic Beef Jerky Recipe
Pepper's Pepperoni Jerky Recipe
Cranberry Beef Jerky Recipe

RSS feed for comments on this post. TrackBack URL
We want to hear about your experiences with our Jerky Recipes! Please leave your comments on any recipe and help other jerky makers be successful. If you decide to buy Beef Jerky online, check out Jerky.com!