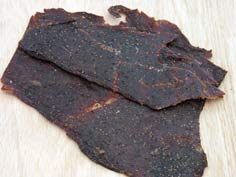 Ingredients:
1 pound very lean round or flank steak
4 tablespoons soy sauce
4 tablespoons Worcestershire sauce
1 tablespoon ketchup
1/4 teaspoon pepper (more pepper for hotter jerky)
1/4 teaspoon garlic powder
1/4 teaspoon onion salt
1/2 teaspoon salt
Directions:
Put steak in freezer for about half an hour, just until firm. Slice steak across grain, about 1/4 inch thick.
Combine everything in large bowl. Marinate meat 1 hour with sauce in refrigerator, then drain in colander. Place meat on cookie sheets to dry Toy Story Jump used.
For fastest drying do not overlap meat and turn at least once during drying. Dry in 145C-degree oven for 8 to 10 hours on cookie sheets. It is ready when it bends like a green willow without breaking.
Refrigerate for long-term storage.
Get more recipes like this for FREE!
Do you want more recipes like this? Download our Beef Jerky Recipes ebook while it's FREE! But hurry...it's only free for a limited time!
Other Recipes You Might Enjoy
Blaine's Buffalo Jerky Recipe
Badgirl BBQ Buffalo Jerky Recipe
Santa's Reindeer Jerky Recipe
College Station Chicken Jerky Recipe
Best BBQ Beef Jerky Recipe
A-1 Beef Jerky Recipe
Beef Sticks Recipe
Ground Venison Jerky Recipe
Vegetarian Jerky Recipe
Deer Burger Jerky Recipe

There are no comments yet... Kick things off by filling out the form below
RSS feed for comments on this post. TrackBack URL
We want to hear about your experiences with our Jerky Recipes! Please leave your comments on any recipe and help other jerky makers be successful. If you decide to buy Beef Jerky online, check out Jerky.com!