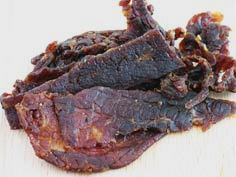 Ingredients:
Directions:
Cut  strips 2″ wide & 1″ thick.
Rub in salt with hand and let sit overnight. Dip a cloth in vinegar, wring dry and whip the meat.
You can either dehydrate the meat or hang the meat in a well ventilated and dry area or place in the oven on foil on the lowest temp. with the door propped open til jerky is pliable or to your liking. Enjoy!
Get more recipes like this for FREE!
Do you want more recipes like this? Download our Beef Jerky Recipes ebook while it's FREE! But hurry...it's only free for a limited time!
Other Recipes You Might Enjoy
Sweet & Spicy Beef Jerky Recipe
Low Sodium Beef/Buffalo Jerky Recipe
Reed's Rabbit Jerky Recipe
Super Scorchin' Sticks Recipe
Hawaiian Lamb Jerky Recipe
5 Gold Stars Buffalo Jerky Recipe
Jack Daniels Chicken Jerky Recipe
Best Ever Made Beef Jerky Recipe
Butter Beef Jerky Recipe
Sandi's Spicy Chicken Jerky Recipe

RSS feed for comments on this post. TrackBack URL
We want to hear about your experiences with our Jerky Recipes! Please leave your comments on any recipe and help other jerky makers be successful. If you decide to buy Beef Jerky online, check out Jerky.com!