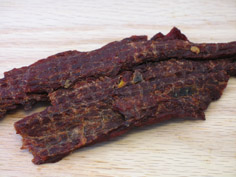 Ingredients:
1 pound of meat
Lemon Juice
Dash of cumin
Dash of Lowery's
2 tablespoon of pepper
2 tablespoon of meat tenderizer
2 tablespoon of curing salt
2 tablespoons of Worcestershire
Directions:
Let meat freeze for about half an hour, take out and slice into 1/4″ strips.
Cure meat and preheat oven to 200
Take ingredients and evenly coat each side of the strips by rubbing it in with your fingers or poking holes in the meat.
Let thoroughly marinate in the fridge for a couple of hours.
Line a cookie sheet with foil and lay out the strips on the sheet, without touching each other. When the oven is ready, insert and leave the door propped open for ventilation. Dry for 2-8 hours, to your preference, flipping once. Enjoy!