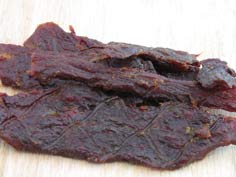 Ingredients:
4 pounds of duck (or any meat type)
1 tablespoon of Meat tenderizer
1 tablespoon of Liquid smoke
2 tablespoons of Brown Sugar
1/4 teaspoon of Ground ginger OR 2 tablespoons of teriyaki OR soy sauce
1 teaspoon of Tabasco
2 teaspoons of Onion Powder
2 teaspoons of Cracked black pepper
2 teaspoons of Garlic Powder
Vegetable oil cooking spray
Directions:
After trimming the fat off your meat, you may freeze for up to 30 minutes to make slicing easier, optional.
Cut meat into strips.
Mix ingredients and marinade strips, in the fridge, covered up, to your preference.
Set oven or dehydrator to lowest temperature, normally 150, lay out on on foil on racks if using oven, lay out on racks without foil if using dehydrator and dry for about 6-12 hours, it's to your preference. Enjoy!
Get more recipes like this for FREE!
Do you want more recipes like this? Download our Beef Jerky Recipes ebook while it's FREE! But hurry...it's only free for a limited time!
Other Recipes You Might Enjoy
BBQ Lamb Jerky Recipe
Orange Beef Jerky Recipe
Should've Had V8 Beef Jerky Recipe
Bugs Bunny Jerky Recipe
5 Gold Stars Buffalo Jerky Recipe
Volcanic Venison Jerky Recipe
Combo Jerky Recipe
Ground Turkey Jerky Recipe
Moroccan Twist Beef Jerky Recipe
Jimmie's Zippy Beef Jerky Recipe

RSS feed for comments on this post. TrackBack URL
We want to hear about your experiences with our Jerky Recipes! Please leave your comments on any recipe and help other jerky makers be successful. If you decide to buy Beef Jerky online, check out Jerky.com!