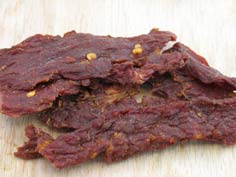 Ingredients:
6 lb. ostrich (or any meat type)
1 tsp. cayenne pepper
1 1/2 tsp. ground cardamom
1 1/2 tsp. curing salt
2 tsp. garlic powder
2 tsp. pepper
8 tsp. table salt
3 tsp. Accent seasoning
2 Tb. liquid smoke
Directions:
Cut meat into strips of about 1/4 inches thick. They can be thicker or thinner, your preference and as long as you want. Meat tends to shrink just a little when heated.
Mix all ingredients and marinate meat in the fridge, covered, for 2 days or to your preference, mixing around periodically.
Lay out on dehydrator racks on lowest temperature and cook anywhere from half a day to an entire day. It's all up to you and how you prefer your jerky! Enjoy!
Get more recipes like this for FREE!
Do you want more recipes like this? Download our Beef Jerky Recipes ebook while it's FREE! But hurry...it's only free for a limited time!
Other Recipes You Might Enjoy
Holiday Beef Jerky Recipe
Flavorful Fish Jerky Recipe
Beef Bouillon Jerky Recipe
Ginger Chicken Jerky Recipe
Intoxicated Chicken Jerky Recipe
V8 Beef Jerky Recipe
Hawaiian Ground Deer Jerky Recipe
Ground Venison Jerky Recipe
Just Lamb Jerky Recipe
Modern Beef Jerky Recipe

There are no comments yet... Kick things off by filling out the form below
RSS feed for comments on this post. TrackBack URL
We want to hear about your experiences with our Jerky Recipes! Please leave your comments on any recipe and help other jerky makers be successful. If you decide to buy Beef Jerky online, check out Jerky.com!