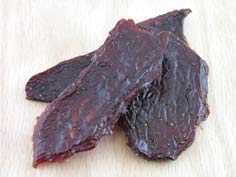 Ingredients:
4 teaspoons of salt
1 teaspoons of pepper
1 teaspoon of garlic powder
1 teaspoon of onion powder
3 drops liquid smoke
1/2 cup of water
2 pounds of beef (or any meat type)
Directions:
Freeze meat for 30 minutes but no more than that and slice into 1/8″ thick strips.
Combine ingredients sprinkling on a good helping of Texas BBQ Rub, marinate strips of meat, cover and refrigerate over night.
Take out and wipe excess marinade off.
Let's go ahead and use a smoker for this recipe. Have your wood chips bought ahead of time and set your smoker to the lowest temp. or around 200 keeping in mind you want to dry the meat, not cook it. You can either lay out your strips over the racks or stick toothpicks through one end and hang them, just depends on what type of smoker you have. Go ahead and smoke your meat for about 3-9 hours, checking periodically. You may want to cut that time short if you're satisfied with your meat or have your temperature set higher, or you may want to dehydrate your strips a little longer than that, it's your preference! Enjoy!
Get more recipes like this for FREE!
Do you want more recipes like this? Download our Beef Jerky Recipes ebook while it's FREE! But hurry...it's only free for a limited time!
Other Recipes You Might Enjoy
Insanely Hot Beef Jerky
Search for Jerky Recipes by Cooking Method
Peter Rabbit Jerky Recipe
BBQ 3000 Beef Jerky Recipe
Bacon Flavored Jerky Recipe
BBQ Lamb Jerky Recipe
Duncan's Duck Jerky Recipe
Jimmie's Zippy Beef Jerky Recipe
Deer Burger Jerky Recipe
Hot Teriyaki Buffalo Jerky Recipe

There are no comments yet... Kick things off by filling out the form below
RSS feed for comments on this post. TrackBack URL
We want to hear about your experiences with our Jerky Recipes! Please leave your comments on any recipe and help other jerky makers be successful. If you decide to buy Beef Jerky online, check out Jerky.com!