tamoxifen, order Zoloft.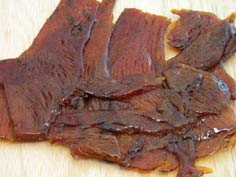 Ingredients:
3 pounds of beef
1/2 cup of water
3 dashes of liquid smoke
1 teaspoon of pepper
1 teaspoon of cayenne
1 teaspoon of garlic
1 teaspoon of chili powder
1 teaspoon of onion powder
4 tablespoons of salt (reduced sodium)
Directions:
Cut meat into 1/4″ thick strips, trimming all fat.
Mix ingredients for marinade.
Soak meat and let marinate for at least an hour.
Dehydrate at 155 degrees for at least 10 hours. Check often and jerky should bend but not break.
Get more recipes like this for FREE!
Do you want more recipes like this? Download our Beef Jerky Recipes ebook while it's FREE! But hurry...it's only free for a limited time!
Other Recipes You Might Enjoy
1st Place Beef Jerky Recipe
Deer Burger Jerky Recipe
Too Good 2B True Teriyaki Ostrich Jerky Recipe
Lamb Jerky Recipe
Teriyaki Venison Jerky Recipe
BBQ Lamb Jerky Recipe
Low Sodium Jerky Recipe
Homestyle Beef Jerky Recipe
Angie's Buffalo Jerky Recipe
Smokerless Venison Jerky Recipe

RSS feed for comments on this post. TrackBack URL
We want to hear about your experiences with our Jerky Recipes! Please leave your comments on any recipe and help other jerky makers be successful. If you decide to buy Beef Jerky online, check out Jerky.com!