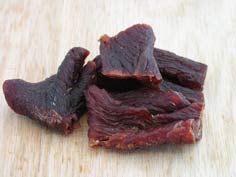 Ingredients:
1 pound Tenderloin; 1/8″ to 1/4″
Barbecue sauce without sugar
Onion salt; to taste
Garlic salt; to taste
Directions:
Put steak in freezer for about half an hour, just until firm. Slice steak across grain, about 1/4 inch thick.
Set oven at 220 and line cookie sheets with foil.
Brush one side of meat with sauce. Put slices on cookie sheet; DO NOT STACK. Sprinkle lightly with onion and garlic salts. Cook for 8-9 hours.
Turn meat after six hours of cooking and brush with sauce. Cool and store in a tightly covered jar or sealed in a plastic bag.
Get more recipes like this for FREE!
Do you want more recipes like this? Download our Beef Jerky Recipes ebook while it's FREE! But hurry...it's only free for a limited time!
Other Recipes You Might Enjoy
BBQ Smokehouse Beef Jerky Recipe
Blaine's Buffalo Jerky Recipe
Southern BBQ Buffalo Jerky Recipe
Moroccan Twist Beef Jerky Recipe
Caliente Beef Jerky Recipe
Kid's Favorite Buffalo Jerky Recipe
Modern Beef Jerky Recipe
Bonfire Beef Jerky Recipe
Aggie Alligator Jerky Recipe
1st Place Beef Jerky Recipe

There are no comments yet... Kick things off by filling out the form below
RSS feed for comments on this post. TrackBack URL
We want to hear about your experiences with our Jerky Recipes! Please leave your comments on any recipe and help other jerky makers be successful. If you decide to buy Beef Jerky online, check out Jerky.com!