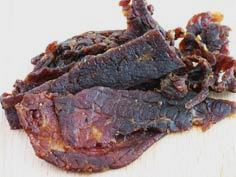 Ingredients:
1 pound of lamb (or any meat type)
1/8 teaspoon of cayenne pepper
1/4 teaspoon of pepper
1/2 teaspoon of garlic powder
1 teaspoon of onion powder
1 teaspoon of salt
1 teaspoon of dry mustard
3 tablespoon of brown sugar
1/3 cup of ketchup
1/3 cup of  Red wine vinegar
Directions:
You may freeze meat for 30 minutes to make slicing easier. Cut meat into 1/4″ strips, trimming all fat.
Mix together your marinade and coat strips.
Set up your smoker on the lowest temperature, remember you want to dry out your meat, not exactly cook it. You can decide to either loosely wrap your meat in foil and place on the grill/racks or stick a tooth pick through the strips and HANG your strips from the racks. Which every you decide, let dry for a couple of hours, checking on periodically and smoke to your preference. Can take anywhere from 3 -7 hours. Enjoy!
Get more recipes like this for FREE!
Do you want more recipes like this? Download our Beef Jerky Recipes ebook while it's FREE! But hurry...it's only free for a limited time!
Other Recipes You Might Enjoy
Low Plains Beef Jerky Recipe
Turkey Burger Recipe
Texas BBQ Beef Jerky Recipe
Teriyaki Beef Sticks Recipe
Smokerless Venison Jerky Recipe
Bacon Flavored Jerky Recipe
Rudder's Rabbit Jerky Recipe
Modern Beef Jerky Recipe
Aggie Alligator Jerky Recipe
Original Smoked Beef Jerky Recipe

RSS feed for comments on this post. TrackBack URL
We want to hear about your experiences with our Jerky Recipes! Please leave your comments on any recipe and help other jerky makers be successful. If you decide to buy Beef Jerky online, check out Jerky.com!