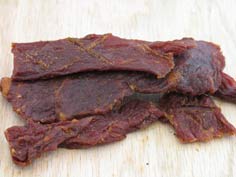 Ingredients:
1 tablespoons of oil
2 tablespoons of white sugar
2 tablespoons of brown sugar
2 tablespoons of Worcestershire
2 tablespoons of ground ginger
2 tablespoons of cider vinegar
1/4 cup of onion – minced
2/3 cup of ketchup
1/2 teaspoon of black pepper
1 teaspoon of garlic – minced
1 teaspoon of Dijon mustard
1 teaspoon of liquid smoke
Dash of cayenne
1 cup of beer (your preference)
1 packet of Nesco/American Harvest jerky cure mix
1 pound of beef (or any meat type)
Directions:
Freeze beef for 30 minutes and slice into 1/4″ thick strips.
Mix together the sugars, oil, and onion in a hot pan, stir, reduce heat, and cook until onions caramelize. Add beer, simmer, cool and mix remaining ingredients together. Once thoroughly mixed or grinded, add meat.
Marinate to your preference covered in the refrigerator.
Remove and place in your dehydrator. Dry about 6-12 hours or to your preference.
Check jerky regularly, it should bend but not break or be too chewy. Enjoy!
Get more recipes like this for FREE!
Do you want more recipes like this? Download our Beef Jerky Recipes ebook while it's FREE! But hurry...it's only free for a limited time!
Other Recipes You Might Enjoy
Ground Venison Jerky Recipe
Tasty Teriyaki Rabbit Jerky Recipe
Hawaiian Ground Deer Jerky Recipe
Oriental Beef Jerky Recipe
Twisted Teriyaki Turkey Jerky Recipe
Teriyaki Beef Sticks Recipe
Deer Burger Jerky Recipe
Sweet & Spicy Beef Jerky Recipe
BBQ Lamb Jerky Recipe
Vegetarian Jerky Recipe

RSS feed for comments on this post. TrackBack URL
We want to hear about your experiences with our Jerky Recipes! Please leave your comments on any recipe and help other jerky makers be successful. If you decide to buy Beef Jerky online, check out Jerky.com!