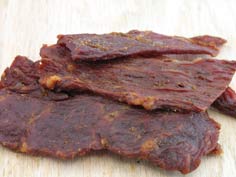 Ingredients:
2 cups salt
1 cup brown sugar
1 cup cider (if you can't get cider, cut back to half cup of sugar and use apple juice)
1 teaspoon cloves
1 teaspoon black pepper
½ teaspoon garlic powder
2 quarts water
Directions:
Mix it all in a large pot and bring to rolling boil. Don't overload the pot. Make two or three batches if needed.
Leave the meat in until about one minute after the rolling boil returns.
Pat dry and dry according to your dehydrator's instructions.
Get more recipes like this for FREE!
Do you want more recipes like this? Download our Beef Jerky Recipes ebook while it's FREE! But hurry...it's only free for a limited time!
Other Recipes You Might Enjoy
A-1 Beef Jerky Recipe
Spicy Thai Beef Jerky Recipe
Honolulu Beef Jerky Recipe
Mrs. Butterworth's Buffalo Jerky Recipe
Apple Cider Chicken Jerky Recipe
Teriyaki Beef Sticks Recipe
Sweet Beef Jerky Recipe
Should've Had V8 Beef Jerky Recipe
Jack Daniels Chicken Jerky Recipe
Ginger Chicken Jerky Recipe

There are no comments yet... Kick things off by filling out the form below
RSS feed for comments on this post. TrackBack URL
We want to hear about your experiences with our Jerky Recipes! Please leave your comments on any recipe and help other jerky makers be successful. If you decide to buy Beef Jerky online, check out Jerky.com!