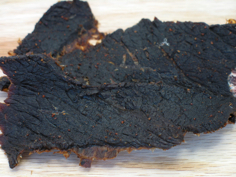 Ingredients:
3 lbs. of lean meat
1/4 c. of scallions – chopped
1/4 c. of juice – pineapple
1/4 c. of vinegar – white
1/2 c. of water
1/2 tsp of onion powder
1/2 tsp. of cayenne pepper
1 tsp of mustard
1 tsp. dried thyme
1 tsp of black pepper
1 tsp. dried basil
1 tsp. salt
2 tsp. of hot sauce – Caribbean
Directions:
Mix ingredients for the marinade and begin to add your meat.
Cover and let the meat marinate in the frige for 12 – 17 hours.
Pat dry with paper towels and cook meat at 175 degrees.
Turn meat after 2 hours or once the meat stops dripping and take out anywhere from 4 – 6 hours.
Get more recipes like this for FREE!
Do you want more recipes like this? Download our Beef Jerky Recipes ebook while it's FREE! But hurry...it's only free for a limited time!
Other Recipes You Might Enjoy
Caribbean Beef Jerky Recipe
Thunder Turkey Jerky Recipe
BBQ Beef Jerky Recipe
Low Sodium Beef/Buffalo Jerky Recipe
Blaine's Buffalo Jerky Recipe
Fruit Jerky Sticks
Patriot's Buffalo Jerky Recipe
Cranberry Beef Jerky Recipe
Modern Beef Jerky Recipe
Mrs. Butterworth's Buffalo Jerky Recipe

RSS feed for comments on this post. TrackBack URL
We want to hear about your experiences with our Jerky Recipes! Please leave your comments on any recipe and help other jerky makers be successful. If you decide to buy Beef Jerky online, check out Jerky.com!