*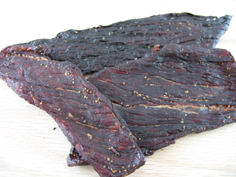 Ingredients:
1 whole chicken
1 Tb. pepper
1/2 c. sesame oil
1 c. vinegar
1 c. soy sauce
1 tsp. lemon juice
1 garlic clove – minced
3/4 bottle liquid smoke
Directions:
Cut meat into strips.
Mix ingredients for your marinade and let marinade as long as you'd like. If you decide to marinate over an hour, cover your meat and put it in the fridge.
Lay out strips on your dehydrator racks, without touching, set to lowest temp. and dry out anywhere from 12-24 hours depending on your preference. Enjoy!
Get more recipes like this for FREE!
Do you want more recipes like this? Download our Beef Jerky Recipes ebook while it's FREE! But hurry...it's only free for a limited time!
Other Recipes You Might Enjoy
Apple Cider Chicken Jerky Recipe
Beef Bouillon Jerky Recipe
Tasty Teriyaki Rabbit Jerky Recipe
BBQ Lamb Jerky Recipe
Reed's Rabbit Jerky Recipe
Rudder's Rabbit Jerky Recipe
Peter Rabbit Jerky Recipe
BBQ 3000 Beef Jerky Recipe
Turkey Burger Recipe
Ginger Chicken Jerky Recipe

RSS feed for comments on this post. TrackBack URL
We want to hear about your experiences with our Jerky Recipes! Please leave your comments on any recipe and help other jerky makers be successful. If you decide to buy Beef Jerky online, check out Jerky.com!