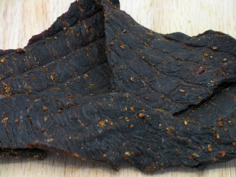 Ingredients:
1 pressed garlic clove
Chili powder – to taste (optional)
1/4 cup of butter (1/2 stick)
1/2 cup of ketchup
3/4 cup of honey
1 tablespoons of soy sauce
1 tablespoon of vinegar
2 tablespoons of brown sugar
2 teaspoons of Dijon mustard
1 pound of beef (or any meat type)
Directions:
Cut meat into 1/4″ thick strips or you can have your butcher do it for you. Freezing for half an hour may make this task a little easier.
Combine ingredients and marinate strips.
Cover and marinate 6-12 hours, or as long as you'd like, in the refrigerator.
Dehydrate 24 to 36 hours until jerky is bendable but not too chewy and won't snap.
Get more recipes like this for FREE!
Do you want more recipes like this? Download our Beef Jerky Recipes ebook while it's FREE! But hurry...it's only free for a limited time!
Other Recipes You Might Enjoy
Kenny's Buffalo Jerky Recipe
Low Sodium Beef/Buffalo Jerky Recipe
BBQ 3000 Beef Jerky Recipe
Honey Peppered Beef Jerky Recipe
Moroccan Twist Beef Jerky Recipe
Holiday Beef Jerky Recipe
College Station Chicken Jerky Recipe
Super Spicy Elk Jerky Recipe
Southern BBQ Buffalo Jerky Recipe
Best Ever Beef Jerky Recipe

RSS feed for comments on this post. TrackBack URL
We want to hear about your experiences with our Jerky Recipes! Please leave your comments on any recipe and help other jerky makers be successful. If you decide to buy Beef Jerky online, check out Jerky.com!