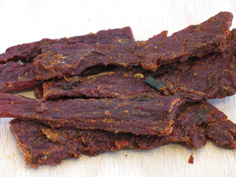 Ingredients:
2 pounds of beef (or any type of meat)
2 minced garlic cloves
5/8 c. of soy sauce
1/2 c. of honey
1/2 tsp. of black pepper
1/2 tsp. of salt
1 tsp. of  liquid smoke
5 Tb. of lemon juice
Directions
Partially freeze meat for about 30 minutes or so, and cut into slices.
Combine ingredients and marinate for 12 – 24 hours, your choice.
Cover oven rack in foil and place meat on top on oven's lowest setting with door propped open for ventilation.
Bake anywhere from 3-6 hours depending on how chewy or hard you like it but jerky should not break when bended.
Get more recipes like this for FREE!
Do you want more recipes like this? Download our Beef Jerky Recipes ebook while it's FREE! But hurry...it's only free for a limited time!
Other Recipes You Might Enjoy
Best Ever Beef Jerky Recipe
Chinese Water Deer Jerky Recipe
Original Tofu Jerky Recipe
Tasty Teriyaki Rabbit Jerky Recipe
Burger Beef Jerky Recipe
Thai Beef Jerky Recipe
Greatest Beef Jerky Recipe
Bugs Bunny Jerky Recipe
V8 Beef Jerky Recipe
Oriental Beef Jerky Recipe

There are no comments yet... Kick things off by filling out the form below
RSS feed for comments on this post. TrackBack URL
We want to hear about your experiences with our Jerky Recipes! Please leave your comments on any recipe and help other jerky makers be successful. If you decide to buy Beef Jerky online, check out Jerky.com!