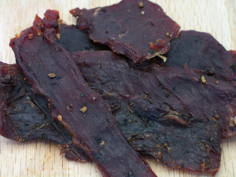 Ingredients:
4-5 Pounds of goose meat
2 cups teriyaki sauce
2 tbs black pepper
2 tbs Tabasco sauce
2 tbs garlic powder
2 tbs red pepper
1 tbs liquid smoke
1 tbs meat tenderizer
1 tbs Mrs. Dash spicy seasoning
2 cans of diced jalapenos (hot), one if you do not want it real spicy and three if you want to burn your taste buds.
Directions:
Marinade overnight in covered glass bowl.
Dehydrate until bendable but will not break.
Get more recipes like this for FREE!
Do you want more recipes like this? Download our Beef Jerky Recipes ebook while it's FREE! But hurry...it's only free for a limited time!
Other Recipes You Might Enjoy
Super Spicy Elk Jerky Recipe
Jack Daniels Chicken Jerky Recipe
Dixie Chicken Jerky Recipe
Goose Jerky Recipe
Cranberry Beef Jerky Recipe
Condiment Beef Jerky Recipe
Classic Hawaiian Buffalo Jerky Recipe
Modern Beef Jerky Recipe
Butter Beef Jerky Recipe
BBQ 3000 Beef Jerky Recipe

RSS feed for comments on this post. TrackBack URL
We want to hear about your experiences with our Jerky Recipes! Please leave your comments on any recipe and help other jerky makers be successful. If you decide to buy Beef Jerky online, check out Jerky.com!