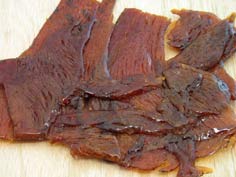 Ingredients
4 lbs goose breast, thinly sliced
2 c. teriyaki sauce
2 Tbsp Tabasco sauce
2 Tbsp liquid smoke
2 Tbsp black pepper
2 Tbsp garlic powder
1 Tbsp meat tenderizer
1 Tbsp Mrs. Dash
1 Tbsp Red Pepper
Directions:
Mix everything together in a large covered bowl, making sure all the goose is submerged.
Put in fridge overnight.
The next day, remove goose and put in dehydrator or smoker.
Cook on medium until jerky is dry, but not crispy.
Get more recipes like this for FREE!
Do you want more recipes like this? Download our Beef Jerky Recipes ebook while it's FREE! But hurry...it's only free for a limited time!
Other Recipes You Might Enjoy
Giddy Up Goose Jerky Recipe
Tasty Teriyaki Rabbit Jerky Recipe
Peter Rabbit Jerky Recipe
Caribbean Beef Jerky Recipe
Sweet & Sticky Alligator Jerky Recipe
Ground Venison Jerky Recipe
Hot Teriyaki Buffalo Jerky Recipe
Honolulu Beef Jerky Recipe
Intoxicated Chicken Jerky Recipe
Oriental Beef Jerky Recipe

RSS feed for comments on this post. TrackBack URL
We want to hear about your experiences with our Jerky Recipes! Please leave your comments on any recipe and help other jerky makers be successful. If you decide to buy Beef Jerky online, check out Jerky.com!