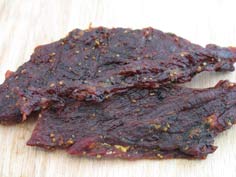 Ingredients:
5 pounds of beef (or any meat type)
5 ounces of liquid smoke
15 ounces of Lea & Perrins OR Worcestershire
15 – 20 ounces of teriyaki sauce
15 – 20 ounces of soy sauce
2 – 4 Tb. of garlic powder
2 – 4 Tb. of dark brown sugar
2 – 4 Tb. of onion powder
2 – 4 ounces of molasses OR dark corn syrup
2 – 4 tsp. of cayenne pepper
Directions:
Cut meat and mix ingredients for marinade.
Cover and put meat in the refrigerate and let marinate for 24 hours.
Cover oven rack with foil and place the meat across racks.
Set oven 160 – 180 degrees. After the meat has stopped dripping, turn each piece over.
Cook for about 4-6 hours depend on what you like and remember to leave the oven door slightly open for ventilation. Enjoy!
Get more recipes like this for FREE!
Do you want more recipes like this? Download our Beef Jerky Recipes ebook while it's FREE! But hurry...it's only free for a limited time!
Other Recipes You Might Enjoy
Bugs Bunny Jerky Recipe
Blaine's Buffalo Jerky Recipe
Best Ever Beef Jerky Recipe
1st Place Beef Jerky Recipe
Original Tofu Jerky Recipe
Tasty Teriyaki Rabbit Jerky Recipe
Super Scorchin' Sticks Recipe
Texas Turkey Jerky Recipe
Low Sodium Beef/Buffalo Jerky Recipe
Kid's Favorite Buffalo Jerky Recipe

RSS feed for comments on this post. TrackBack URL
We want to hear about your experiences with our Jerky Recipes! Please leave your comments on any recipe and help other jerky makers be successful. If you decide to buy Beef Jerky online, check out Jerky.com!