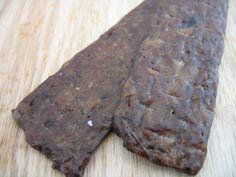 Ingredients:
5 pounds of ground venison
2 tablespoons canning salt
1 1/2 teaspoons of Tender Quick® curing mix
1 large white onion, or 2 medium onions, minced finely
1 clove garlic, finely minced
1/2 cup Worcestershire sauce
1/4 cup corn syrup
1 tablespoon black pepper
Directions:
Combine the ground venison, canning salt and Tender Quick®, mixing thoroughly. Press the meat into a large cake pan, cover with plastic wrap and refrigerate. Let the ground venison cure in the fridge for two more days, mixing twice a day.
When the venison is mixed for the last time, add the remaining ingredients, making sure that everything is completely mixed together. The best tools to do the mixing with are a pair of hands. Squishing, kneading and pressing do a better job than any spoon can.
To form it, the easiest way is to use a jerky shooter. Form it onto the racks of a dehydrator, or onto cookie sheets if you're drying the meat in the oven. Set the oven to 155-160 degrees Fahrenheit, or as close as you can get. It will take four to six hours to dry the cured venison jerky.
**Click here for our PREPARATION PAGE for more in depth directions.
Get more recipes like this for FREE!
Do you want more recipes like this? Download our Beef Jerky Recipes ebook while it's FREE! But hurry...it's only free for a limited time!
Other Recipes You Might Enjoy
Hawaiian Ground Deer Jerky Recipe
Salami Sticks Recipe
Pepper's Pepperoni Jerky Recipe
V8 Beef Jerky Recipe
Ginger Chicken Jerky Recipe
Best BBQ Beef Jerky Recipe
Bumpin' Buffalo Jerky Recipe
Oriental Beef Jerky Recipe
Teriyaki Beef Sticks Recipe
Hot Teriyaki Buffalo Jerky Recipe

There are no comments yet... Kick things off by filling out the form below
RSS feed for comments on this post. TrackBack URL
We want to hear about your experiences with our Jerky Recipes! Please leave your comments on any recipe and help other jerky makers be successful. If you decide to buy Beef Jerky online, check out Jerky.com!