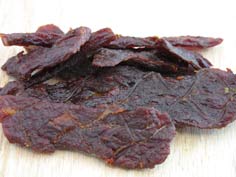 Ingredients:
1 lb. beef (or any meat type)
1/2 c. apple cider
1/3 tsp. white pepper
1/5 tsp. nutmeg
1 Tb. corn syrup
cinnamon
salt
curing salt
Directions:
To make the cutting process easier, try freezing your meat no longer than 30 minutes prior. Either way, you will want to slice your meat into strips about 1/4″ thick (or get creative and try Christmas shaped cookie cutters!).
Combine the salt and curing salt with your meat and let sit. Some people let their meat cure in the fridge an hour and some do it for 2 days, it's your preference.
Add the remaining ingredients, the measurements are your preference but try not to use more than just a pinch of cinnamon on each side of your jerky strips, cinnamon can be very strong! After mixing all of your ingredients into your meat, you can either let it marinate for a while in the fridge again or go straight to your dehydrating method.
If using a dehydrator, lay out your strips onto the racks, without touching and dehydrate on the lowest temperature anywhere from 12-24 hours. Be sure and check periodically so you can have your jerky just the way you want it! If you're using an oven, set it to the lowest temperature, foil line a cookie sheet and lay out your strips without touching and stick it in the oven. Keep the oven door propped open for ventilation and let dehydrate anywhere from 3-9 hours. Remember, the longer you dry out your meat the harder it gets and you don't want to cook it so, check often if using the oven method. Have fun, enjoy and happy holidays!!
Get more recipes like this for FREE!
Do you want more recipes like this? Download our Beef Jerky Recipes ebook while it's FREE! But hurry...it's only free for a limited time!
Other Recipes You Might Enjoy
Beef Bouillon Jerky Recipe
Insanely Hot Beef Jerky
Apple Cider Chicken Jerky Recipe
Jimmie's Zippy Beef Jerky Recipe
Bacon Flavored Jerky Recipe
Sweet Beef Jerky Recipe
BBQ 3000 Beef Jerky Recipe
Flavorful Fish Jerky Recipe
Low Sodium Beef/Buffalo Jerky Recipe
Turkey Burger Recipe

RSS feed for comments on this post. TrackBack URL
We want to hear about your experiences with our Jerky Recipes! Please leave your comments on any recipe and help other jerky makers be successful. If you decide to buy Beef Jerky online, check out Jerky.com!