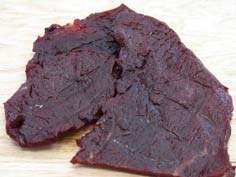 Ingredients:
salt
pepper
chili powder
cayenne pepper
2 pounds of beef (or any meat type)
Directions:
Prior to seasoning and slicing, freeze your meat for no more than 30 minutes to making cutting easier. Once you've done that, go ahead and dash on your salt, pepper, chili powder, cayenne pepper and REALLY get that spicy flavor you're looking for by adding Jimmie's Zippy Meat Rub! If this is too hot for you, cut out the chili powder and cayenne pepper, it's all up to you. Also, if you're not a spicy type of person, check out Jimmie's other meat rubs!
After you have seasoned your meat just right, go ahead and slice it into strips about 1/4″ thick and lay out on the dehydrator's racks, without touching, on the lowest temperature for about 12-24 hours, time preference is up to you. If you rather do the oven, line a cookie sheet with foil and place your meat strips on that, without touching, on the oven's lowest temperature, as well, for about 6-12 hours, leaving the door propped open for ventilation. Remember, your jerky should bend but not snap or be too chewy but your drying time is up to you, just have fun with it! Enjoy!
Get more recipes like this for FREE!
Do you want more recipes like this? Download our Beef Jerky Recipes ebook while it's FREE! But hurry...it's only free for a limited time!
Other Recipes You Might Enjoy
Insanely Hot Beef Jerky
Texas BBQ Beef Jerky Recipe
Allegro Turkey Jerky Recipe
Bacon Flavored Jerky Recipe
Moroccan Twist Beef Jerky Recipe
Super Spicy Elk Jerky Recipe
Hawaiian Lamb Jerky Recipe
Caliente Beef Jerky Recipe
Holiday Beef Jerky Recipe
Sandi's Spicy Chicken Jerky Recipe

RSS feed for comments on this post. TrackBack URL
We want to hear about your experiences with our Jerky Recipes! Please leave your comments on any recipe and help other jerky makers be successful. If you decide to buy Beef Jerky online, check out Jerky.com!