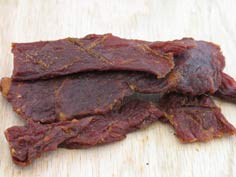 Ingredients:
2 lb. of beef (or any meat type)
1/4 c. of soy sauce
3 peeled and smashed garlic clove
1 tsp. of curing salt
1 tsp. of black pepper
2 tsp. of red pepper flakes
2 tsp. of onion powder
2 tsp. of chili powder
3 tsp. of brown sugar
1 Tb. of liquid smoke
2 Tb. of Worcestershire
Directions:
Slice the meat about 1/4″ thick up to 1/8″. Freezing before for about 30 mins may make cutting easier.
Mix ingredients for marinade and let the meat marinate for as long as you want, the longer the better.
Bake strips on the lowest temperature on top of a big piece of foil directly on top of the oven rack.
Once meat stops dripping, turn over, but don't allow the strips to touch.
Let cook for a good 10 hours or until you think the jerky is done which would be bendable but won't snap. Enjoy!
Get more recipes like this for FREE!
Do you want more recipes like this? Download our Beef Jerky Recipes ebook while it's FREE! But hurry...it's only free for a limited time!
Other Recipes You Might Enjoy
Greatest Beef Jerky Recipe
Best Ever Beef Jerky Recipe
Caribbean Buffalo Jerky Recipe
Super Scorchin' Sticks Recipe
Best Beef Sticks Recipe
Kid's Favorite Buffalo Jerky Recipe
Hawaiian Islands Beef Jerky Recipe
Cranberry Thanksgiving Turkey Jerky
Original Tofu Jerky Recipe
Blaine's Buffalo Jerky Recipe

There are no comments yet... Kick things off by filling out the form below
RSS feed for comments on this post. TrackBack URL
We want to hear about your experiences with our Jerky Recipes! Please leave your comments on any recipe and help other jerky makers be successful. If you decide to buy Beef Jerky online, check out Jerky.com!