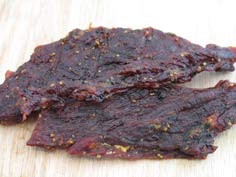 Ingredients:
3 pounds beef – flank or steak (or any meat type)
2 tablespoon of Worcestershire sauce
1/2 cup of brown sugar
1 teaspoon of onion powder
salt
pepper
Directions:
Go ahead and rub on your Worcestershire sauce, salt, pepper, brown sugar and onion powder evenly on both sides. Do not use too much because you do not want to over power the taste of your Moroccan Twist Rub. Once you sprinkle on and rub in those ingredients, go for your Moroccan Twist Rub and coat the meat with a medium to thick layer til you're sure you will be able to taste that amazing flavor!
Now that your meat is good and seasoned, go ahead and cut it into about 1/4″ thick strips. Freezing for 30 minutes prior to slicing may make this task easier.
Line a cookie sheet with foil and place your strips, without touching, onto the pan and into the oven on the lowest temp. with the door propped open for about 4-8 hours. If you want to use a dehydrator, layer the racks with your strips, also without touching, on the lowest temp. for about 12-20 hours. Be sure and check up on your jerky periodically. Length of time varies so, dry to your preference. Enjoy!
Get more recipes like this for FREE!
Do you want more recipes like this? Download our Beef Jerky Recipes ebook while it's FREE! But hurry...it's only free for a limited time!
Other Recipes You Might Enjoy
BBQ 3000 Beef Jerky Recipe
Insanely Hot Beef Jerky
Bacon Flavored Jerky Recipe
Texas BBQ Beef Jerky Recipe
Jimmie's Zippy Beef Jerky Recipe
Beef Jerky A La Kenny Recipe
Volcanic Venison Jerky Recipe
1st Place Beef Jerky Recipe
Best Ever Beef Jerky Recipe
Homestyle Beef Jerky Recipe

RSS feed for comments on this post. TrackBack URL
We want to hear about your experiences with our Jerky Recipes! Please leave your comments on any recipe and help other jerky makers be successful. If you decide to buy Beef Jerky online, check out Jerky.com!