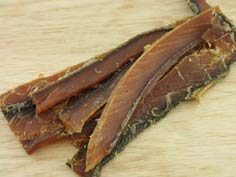 Ingredients:
1 c. beer
1 tsp. garlic salt
1 tsp. soy sauce
1 tsp. salt
Tabasco (optional)
1 Tb. pepper
1 Tb. Worcestershire sauce
Directions:
Cut meat about an inch wide.
Marinate for 3 hours, covered in the fridge.
Place on smoker in or out of foil to your preference. Enjoy!
Get more recipes like this for FREE!
Do you want more recipes like this? Download our Beef Jerky Recipes ebook while it's FREE! But hurry...it's only free for a limited time!
Other Recipes You Might Enjoy
Hawaiian Islands Beef Jerky Recipe
Original Fish Jerky Recipe
Duncan's Duck Jerky Recipe
Best BBQ Beef Jerky Recipe
Peter Rabbit Jerky Recipe
Just Lamb Jerky Recipe
Goose Jerky Recipe
Low Plains Beef Jerky Recipe
Thai Beef Jerky Recipe
Sweet & Sticky Alligator Jerky Recipe

RSS feed for comments on this post. TrackBack URL
We want to hear about your experiences with our Jerky Recipes! Please leave your comments on any recipe and help other jerky makers be successful. If you decide to buy Beef Jerky online, check out Jerky.com!