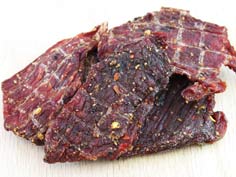 Ingredients:
8 lb. of beef (or any meat type)
1 c. of beef stock
4 Tb. of lime juice
4 Tb. of fish sauce (nam pla)
4 tsp. sugar
1/2 c. of mint leaves (loosely packed)
1/2 c. of shallots – thinly sliced
4 Scallions; sliced in half lengthwise and cut into 1/4″ lengths
2 fresh hot chili peppers – seeded and chopped
4 tsp. of pepper
1 tsp. of cayenne pepper
4 tsp. of liquid smoke
1/2 c. of soy sauce
Directions:
Trim fat and cut strips into 1/4 inch strips.
Bring sugar, lime juice, beef stock, and fish sauce to a boil over high heat.
Once to a boil, add mint, shallots, scallions and peppers. Cool and strain.
Combine the beef stock, other ingredients, meat and cover. Marinade overnight, turning meat periodically.
Line oven racks with foil, place meat on top, without touching, prop open oven door for ventilation and dry according to preference. Enjoy!
Get more recipes like this for FREE!
Do you want more recipes like this? Download our Beef Jerky Recipes ebook while it's FREE! But hurry...it's only free for a limited time!
Other Recipes You Might Enjoy
Buffalo Cider Jerky Recipe
Super Spicy Elk Jerky Recipe
Island Cowboy Beef Jerky Recipe
Jack Daniels Chicken Jerky Recipe
Fruit Jerky Sticks
Caribbean Buffalo Jerky Recipe
A-1 Beef Jerky Recipe
Spicy Deer Jerky Recipe
Classic Hawaiian Buffalo Jerky Recipe
Peter Rabbit Jerky Recipe

There are no comments yet... Kick things off by filling out the form below
RSS feed for comments on this post. TrackBack URL
We want to hear about your experiences with our Jerky Recipes! Please leave your comments on any recipe and help other jerky makers be successful. If you decide to buy Beef Jerky online, check out Jerky.com!