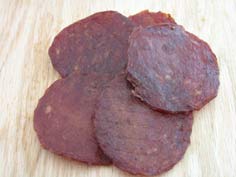 Ingredients:
1/2 cup of seasoned rice vinegar
1 cup of dark japanese soy sauce – Shoyu
2 tablespoons of sugar
2 tablespoons of oil
1 medium chopped onion
2 pressed cloves of garlic
1 grated ginger root – 1″
Directions:
Get off as much meat as you can off the bone, lay out flat and cut into 1/4″ thick strips with zero fat, if possible.
The above ingredients will make a nice marinade for you. Let marinade in fridge, covered, for at least 2 hours or more depending on your preference.
Start up your smoker/cooker on lowest heat and let meat cook for at least 24 hours but check and turn periodically.
Once you get the desired smoke taste and don't want to finish up on the smoker, you can move to your oven, on the lowest temp. and cook for another 4 hours or so depending on your desired taste, just remember to leave the open door propped open for ventilation. Enjoy!
Get more recipes like this for FREE!
Do you want more recipes like this? Download our Beef Jerky Recipes ebook while it's FREE! But hurry...it's only free for a limited time!
Other Recipes You Might Enjoy
Peter Rabbit Jerky Recipe
Thai Beef Jerky Recipe
Rudder's Rabbit Jerky Recipe
Homestyle Beef Jerky Recipe
Homemade Beef Jerky Recipe
BBQ Smokehouse Beef Jerky Recipe
Bonfire Beef Jerky Recipe
Garlic Pepper Beef Jerky Recipe
Hawaiian Islands Beef Jerky Recipe
Combo Jerky Recipe

There are no comments yet... Kick things off by filling out the form below
RSS feed for comments on this post. TrackBack URL
We want to hear about your experiences with our Jerky Recipes! Please leave your comments on any recipe and help other jerky makers be successful. If you decide to buy Beef Jerky online, check out Jerky.com!