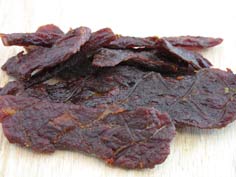 Ingredients:
2 lbs. chicken (or any meat type)
6 Tb. rock salt
1/4 tsp. pepper
1 tsp. garlic powder
1 tsp. salt/pound
1 tsp. onion powder
6 oz. molasses
6 oz. soy sauce
6 oz. teriyaki sauce
Directions:
Make your marinade and then set aside to let sit while you cut your meat into strips.
Once done making your strips, add them to the marinade. Don't worry if the marinade is gritty and the rock salt didn't absorb all the way.
Top with water until all meat is completely submerged.
Cover and refrigerate for at least 10 hours, but no longer than 16 hours.
Dry in the oven at 170 degrees for 5 hours, turning meat over half way through. Enjoy!
Get more recipes like this for FREE!
Do you want more recipes like this? Download our Beef Jerky Recipes ebook while it's FREE! But hurry...it's only free for a limited time!
Other Recipes You Might Enjoy
Hot Teriyaki Buffalo Jerky Recipe
Organic Beef Jerky Recipe
Texas Turkey Jerky Recipe
Bugs Bunny Jerky Recipe
Texas BBQ Beef Jerky Recipe
Greatest Beef Jerky Recipe
Caliente Beef Jerky Recipe
Santa's Reindeer Jerky Recipe
Sweet & Spicy Beef Jerky Recipe
Original Tofu Jerky Recipe

RSS feed for comments on this post. TrackBack URL
We want to hear about your experiences with our Jerky Recipes! Please leave your comments on any recipe and help other jerky makers be successful. If you decide to buy Beef Jerky online, check out Jerky.com!