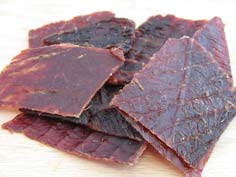 Ingredients:
2 1/2 pounds of beef – sirloin or round (or any meat type)
1 1/2 cups of oil
1 teaspoon of cumin seeds
1 1/2 teaspoons of sugar
3 teaspoons of coriander seeds
4 teaspoons of Thai light soy sauce (Aew Sai)
Directions:
Cut meat 1/4 inches thick across the grain.
Roast the coriander and cumin seeds in a fry pan over low heat until fragrant, cool, and grind coarsely.
Mix up the ingredients and marinade the strips to desired preference in the fridge, covered.
Take out, rinse off (optional) and pat dry with a paper towel.
Line oven racks with foil, place meat on top of foil and set oven to lowest temp. with the door propped open for ventilation.
Cook to desired preference. Jerky should bend back if bent but not snap nor be too chewy. Enjoy!
Get more recipes like this for FREE!
Do you want more recipes like this? Download our Beef Jerky Recipes ebook while it's FREE! But hurry...it's only free for a limited time!
Other Recipes You Might Enjoy
Oh My Ostrich Jerky Recipe
Burger Beef Jerky Recipe
Orange Beef Jerky Recipe
1st Place Beef Jerky Recipe
Duncan's Duck Jerky Recipe
Only Ostrich Jerky Recipe
Colt's BBQ Beef Jerky Recipe
Kid's Favorite Buffalo Jerky Recipe
Condiment Beef Jerky Recipe
BBQ Smokehouse Beef Jerky Recipe

There are no comments yet... Kick things off by filling out the form below
RSS feed for comments on this post. TrackBack URL
We want to hear about your experiences with our Jerky Recipes! Please leave your comments on any recipe and help other jerky makers be successful. If you decide to buy Beef Jerky online, check out Jerky.com!