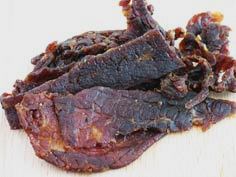 Ingredients:
1 pound of whole breast turkey (or any meat type)
2 tablespoon of tomato paste
1 teaspoon of garlic powder
2 teaspoon of brewer's yeast
Directions:
Preheat oven to lowest temp. then proceed to slice the turkey into uniform strips (1/4 inch thickness).
Mix ingredients, marinade meat making sure to coat both sides evenly and stick in the fridge to marinate as long as you'd like, turning or stirring occasionally.
Remove and you can decide to either rinse and pat dry the excess marinade or leave it on there and go straight to the foil.
Line a cookie sheet with foil and place the strips without touching. Stick in the oven at a temperature of 160 degrees, leaving the door propped open for ventilation, to your preference. Dehydrate for 8 to 10 hours and Enjoy!
Get more recipes like this for FREE!
Do you want more recipes like this? Download our Beef Jerky Recipes ebook while it's FREE! But hurry...it's only free for a limited time!
Other Recipes You Might Enjoy
12th Man Turkey Jerky Recipe
Modern Beef Jerky Recipe
1st Place Beef Jerky Recipe
Combo Jerky Recipe
BBQ Lamb Jerky Recipe
Kid's Favorite Buffalo Jerky Recipe
Texas Turkey Jerky Recipe
Holiday Beef Jerky Recipe
Homemade Beef Jerky Recipe
Original Turkey Jerky Recipe

RSS feed for comments on this post. TrackBack URL
We want to hear about your experiences with our Jerky Recipes! Please leave your comments on any recipe and help other jerky makers be successful. If you decide to buy Beef Jerky online, check out Jerky.com!