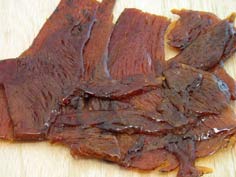 Ingredients:
2 tsp. of spice powder
1/4 c. of rice wine OR semi-dry sherry
1/2 c. brown sugar
1 c. of soy sauce
2 Tb. minced garlic
3 Tb. chopped green onion
3 Tb. of fresh minced ginger
Directions:
Combine all ingredients together and heat on low until the sugar is completely dissolved.
Once cool, marinate your meat, cover and place in the fridge for up to 4 hours. If you're doing shrimp, you only have to allow about 30 minutes.
Dehydrate accordingly to dehydrator instructions. Enjoy!
Looking to buy turkey jerky? Check out Jerky.com for a wide selection of Gourmet Jerky.
Get more recipes like this for FREE!
Do you want more recipes like this? Download our Beef Jerky Recipes ebook while it's FREE! But hurry...it's only free for a limited time!
Other Recipes You Might Enjoy
Turkey Jerky Recipe
12th Man Turkey Jerky Recipe
Original Turkey Jerky Recipe
Tasteful Turkey Jerky Recipe
Texas Turkey Jerky Recipe
Allegro Turkey Jerky Recipe
Thunder Turkey Jerky Recipe
Combo Jerky Recipe
Cranberry Thanksgiving Turkey Jerky
V8 Beef Jerky Recipe

RSS feed for comments on this post. TrackBack URL
We want to hear about your experiences with our Jerky Recipes! Please leave your comments on any recipe and help other jerky makers be successful. If you decide to buy Beef Jerky online, check out Jerky.com!