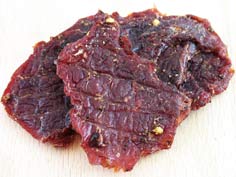 Ingredients:
1 pound of beef (or any meat type)
1 garlic clove – crushed
1/8 teaspoon of cayenne pepper
1/4 teaspoon of pepper
1 teaspoon of ground ginger
1 teaspoon of curing salt
1 tablespoon of brown sugar
1/4 cup of soy sauce
1/4 cup of V8 Tropical Blend Juice (your preference)
Directions:
Cut meat about 1/4″ thick. (you can freeze for about 30 mins. to make slicing easier)
Combine ingredients, mix thoroughly and add meat.
Leave meat in marinade, cover and let marinate in fridge as long as you'd like.
Lay on dehydrator trays for 24 – 35 hours but it could be sooner or more, check often. Jerky should bend but not break or be too chewy. Enjoy!