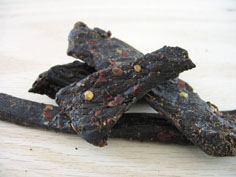 Ingredients:
2 pounds of lamb (or any meat type)
1 Red Chili Pepper – crushed
1 garlic clove – minced
Ginger – crushed
3/4 cups of Soy Sauce
1 1/2 tablespoons of Sugar
2 tablespoons of Hawaiian Salt
Directions:
Cut meet into strips about 1″ wide and 1/4″ thick.
Mix the above ingredients and let marinate over night to let those spices really soak in. Be sure and remember to cover up the meat and let marinate in the fridge and not out in room temperature.
Set your oven to the lowest temperature (150-200) and lay strips on a foil lined cookie sheet for about 5-7 hours, or to your preference. Jerky should bend without snapping and not be too chewy, unless you like it like that, of coarse. Enjoy!
Get more recipes like this for FREE!
Do you want more recipes like this? Download our Beef Jerky Recipes ebook while it's FREE! But hurry...it's only free for a limited time!
Other Recipes You Might Enjoy
Jimmie's Zippy Beef Jerky Recipe
Best Ever Beef Jerky Recipe
Hawaiian Islands Beef Jerky Recipe
Holiday Beef Jerky Recipe
Oriental Beef Jerky Recipe
Should've Had V8 Beef Jerky Recipe
Super Spicy Elk Jerky Recipe
Lemon Honey Beef Jerky Recipe
Deer Burger Jerky Recipe
Burger Beef Jerky Recipe

RSS feed for comments on this post. TrackBack URL
We want to hear about your experiences with our Jerky Recipes! Please leave your comments on any recipe and help other jerky makers be successful. If you decide to buy Beef Jerky online, check out Jerky.com!