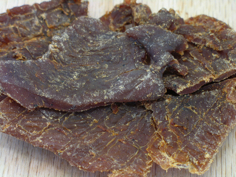 Ingredients:
1 lb. of turkey, chicken breast and fish
Salt and pepper – your preference
1 minced onion
1 minced clove of garlic
1/4 c. of soy sauce
1 Tb. of Dijonnaise
1 Tb. Worcestershire sauce
1 Tb. of Louisiana hot sauce
2 Tb. liquid smoke
3 Tb. of brown sugar
3 Tb. of catsup
Directions:
Cut meat into strips. (freeze for 30 mins. before to make slicing easier if necessary).
Mix ingredients and coat meat evenly. If you'd like to marinate over an hour, you will need to either leave the meat in or out of the marinade but cover it and stick the strips in the fridge for however long you'd like.
Oven – foil a cookie sheet and lay down strips, without touching each other, keeping the door propped open for ventilation cook until desired preference.
Dehydrator – lay out strips onto racks, without touching, and dry for as long as your dehydrator's instructions advise or to your own preference. Enjoy!
Get more recipes like this for FREE!
Do you want more recipes like this? Download our Beef Jerky Recipes ebook while it's FREE! But hurry...it's only free for a limited time!
Other Recipes You Might Enjoy
Turkey Burger Recipe
Oriental Beef Jerky Recipe
Caliente Beef Jerky Recipe
Bonfire Beef Jerky Recipe
Secret Jerky Recipe
Holiday Beef Jerky Recipe
1st Place Beef Jerky Recipe
Bacon Flavored Jerky Recipe
Beef Bouillon Jerky Recipe
Filipino Chicken Adobo Jerky Recipe

There are no comments yet... Kick things off by filling out the form below
RSS feed for comments on this post. TrackBack URL
We want to hear about your experiences with our Jerky Recipes! Please leave your comments on any recipe and help other jerky makers be successful. If you decide to buy Beef Jerky online, check out Jerky.com!