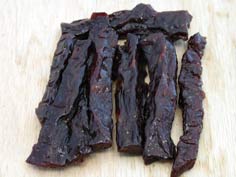 Ingredients:
3 lbs of Trimmed Elk Meat
20 shakes Worcestershire sauce
20 shakes Frank's red hot sauce
20 shakes teriyaki sauce
1 tablespoon of mint sauce
2 tablespoons of steak sauce (Lea & Perrins)
2 tablespoons of seasoned meat tenderizer
2 tablespoons of molasses
3 tablespoons of brown sugar
3 tablespoons of Caribbean jerk seasoning
1/8 cup of garlic salt
1/8 cup of onion salt
1/4 cup of ground cayenne pepper
1 teaspoon of dried mint crushed
1 bottle Allegro hot & spicy marinade
Directions:
Cut meat into strips.
Combine ingredients and coat strips evenly.
Let marinade to your preference over overnight to a sure bet!
Oven roast for 6-8 hours with the oven door cracked open to let moisture out.
Place on dehydrator racks, without touching, on the lowest temp. for 5 hours or to your preference. Jerky should be bendable but shouldn't snap or be too chewy. Enjoy!
Get more recipes like this for FREE!
Do you want more recipes like this? Download our Beef Jerky Recipes ebook while it's FREE! But hurry...it's only free for a limited time!
Other Recipes You Might Enjoy
Spicy Thai Beef Jerky Recipe
Turkey Burger Recipe
Cranberry Beef Jerky Recipe
Combo Jerky Recipe
Cajun Beef Jerky Recipe
Kelly's Surprise Beef Jerky Recipe
Spicy Deer Jerky Recipe
Caliente Beef Jerky Recipe
Just Lamb Jerky Recipe
Tofu Jerky Recipe

RSS feed for comments on this post. TrackBack URL
We want to hear about your experiences with our Jerky Recipes! Please leave your comments on any recipe and help other jerky makers be successful. If you decide to buy Beef Jerky online, check out Jerky.com!