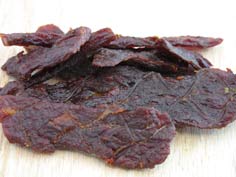 Ingredients:
5 pounds meat
1 ounce liquid smoke
1 teaspoon cardamon – cinnamon
1 teaspoon Marjoram
1 teaspoon cayenne
1 teaspoon pepper
2 teaspoon garlic powder
3 teaspoon accent a.k.a. fruit fresh
1 tablespoon curing salt
3 tablespoons salt
Directions:
Slice meat into 1/4″ thick strips.
Mix ingredients and marinate strips for as long as you want in the fridge.
Put in oven on warmest temp. for about 11 – 12 hour. Remember to leave the oven door slightly open for ventilation.
Get more recipes like this for FREE!
Do you want more recipes like this? Download our Beef Jerky Recipes ebook while it's FREE! But hurry...it's only free for a limited time!
Other Recipes You Might Enjoy
Best Ever Beef Jerky Recipe
5 Gold Stars Buffalo Jerky Recipe
Blaine's Buffalo Jerky Recipe
Turkey Burger Recipe
Too Good 2B True Teriyaki Ostrich Jerky Recipe
Greatest Beef Jerky Recipe
Homemade Beef Jerky Recipe
Beef Jerky A La Kenny Recipe
Jack Daniels Chicken Jerky Recipe
Combo Jerky Recipe

There are no comments yet... Kick things off by filling out the form below
RSS feed for comments on this post. TrackBack URL
We want to hear about your experiences with our Jerky Recipes! Please leave your comments on any recipe and help other jerky makers be successful. If you decide to buy Beef Jerky online, check out Jerky.com!