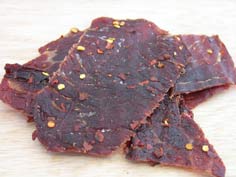 Ingredients:
1 1/2 lb. beef (or any meat type)
1/2 tsp. garlic powder
1/2 tsp. onion powder
1/2 tsp. pepper
1/2 tsp. salt
1 tsp. liquid smoke
1/4 c. soy sauce
1 Tb. A-1 Steak Sauce
1 Tb. Worcestershire sauce
Directions:
Be sure and trim all fat from meat when cutting into strips.
Marinate in mixture of ingredients, cover and let marinate in the fridge over night or to desired preference.
Line cookie sheet with foil and place strips out without touching each other.
Oven should be set on lowest temp., keeping the door propped open for ventilation. Check meat periodically turning once during process. Cook til pliable. Enjoy!
Get more recipes like this for FREE!
Do you want more recipes like this? Download our Beef Jerky Recipes ebook while it's FREE! But hurry...it's only free for a limited time!
Other Recipes You Might Enjoy
Insanely Hot Beef Jerky
Moroccan Twist Beef Jerky Recipe
Holiday Beef Jerky Recipe
1st Place Beef Jerky Recipe
Caliente Beef Jerky Recipe
Homestyle Beef Jerky Recipe
Turkey Burger Recipe
Beef Bouillon Jerky Recipe
Oriental Beef Jerky Recipe
A-1 Beef Jerky Recipe

RSS feed for comments on this post. TrackBack URL
We want to hear about your experiences with our Jerky Recipes! Please leave your comments on any recipe and help other jerky makers be successful. If you decide to buy Beef Jerky online, check out Jerky.com!