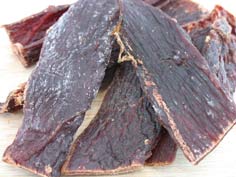 Ingredients:
2 lb. beef (or any meat type)
1 c. of light brown sugar
1 c. of cranberries – dried
1 c. of teriyaki marinade
1/2 tsp. ground black pepper
1 tsp. white wine vinegar
2 tsp. of red pepper – crushed
2 tsp. of garlic granules
Directions:
Add all ingredients, except meat, into a bowl and mix well.
Cut meat into 1/4″ thick slices and coat evenly in marinade.
Cover bowl and let sit in fridge to your preference.
Dehydrate on dehydrator or in oven at 200 degrees with door propped open Basketball Challenge rental. Check often and turn once.
Jerky is done when snaps back from bend without breaking. Enjoy!
Get more recipes like this for FREE!
Do you want more recipes like this? Download our Beef Jerky Recipes ebook while it's FREE! But hurry...it's only free for a limited time!
Other Recipes You Might Enjoy
BBQ Beef Jerky Recipe
Best Ever Beef Jerky Recipe
Caliente Beef Jerky Recipe
Cajun Beef Jerky Recipe
Texas Turkey Jerky Recipe
Holiday Beef Jerky Recipe
Tasty Teriyaki Rabbit Jerky Recipe
Beef Bouillon Jerky Recipe
Honolulu Beef Jerky Recipe
Burger Beef Jerky Recipe

There are no comments yet... Kick things off by filling out the form below
RSS feed for comments on this post. TrackBack URL
We want to hear about your experiences with our Jerky Recipes! Please leave your comments on any recipe and help other jerky makers be successful. If you decide to buy Beef Jerky online, check out Jerky.com!