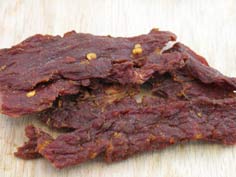 Ingredients:
3 pounds of beef (or any meat type)
Meat Tenderizer
Table salt (or curing salt)
Pepper
Directions:
You can either season your meat before you cut it or go ahead and cut it into strips and then season. Either way, poke some holes into your meat and pour on the Insanity Sauce to get that spicy flavor all the way into the middle of your meat! Also sprinkle on your meat tenderizer, salt and pepper. You wont need any other hot/spicy ingredients because the Insanity Sauce will definitely take care of that!
If you're going with the dehydrator method, go ahead and set it on it's lowest temp. and set out your strips on the racks, without touching. The length of time is up to you but typically it's anywhere between 12-20 hours.
Oven Method – set your oven on its lowest temp. as well and cover a cookie sheet with foil and lay out your strips, without touching and pop into the oven! Remember, leave the oven door propped open for proper ventilation and dry out for about 6-10 hours but check periodically.
Smoker – have your chips picked out ahead of time, the flavor is up to you, and lay out your strips, without touching, on the racks with the temp. set to the lowest possible. Check occasionally anywhere after the first couple of hours. Should be done after around 5-8. Enjoy!
Get more recipes like this for FREE!
Do you want more recipes like this? Download our Beef Jerky Recipes ebook while it's FREE! But hurry...it's only free for a limited time!
Other Recipes You Might Enjoy
Jimmie's Zippy Beef Jerky Recipe
Bacon Flavored Jerky Recipe
BBQ 3000 Beef Jerky Recipe
Moroccan Twist Beef Jerky Recipe
Allegro Turkey Jerky Recipe
Texas BBQ Beef Jerky Recipe
Holiday Beef Jerky Recipe
Super Spicy Elk Jerky Recipe
Best Ever Beef Jerky Recipe
Cranberry Thanksgiving Turkey Jerky

RSS feed for comments on this post. TrackBack URL
We want to hear about your experiences with our Jerky Recipes! Please leave your comments on any recipe and help other jerky makers be successful. If you decide to buy Beef Jerky online, check out Jerky.com!