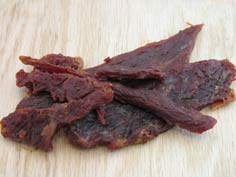 Ingredients:
1 c. Jack Daniels
1 c. brown sugar
1 c. ketchup
1/2 c. onion
1/2 c. apple cider vinegar
3 Tb. chili powder
3 Tb. Chipotle-Rasberry sauce
2 Tb. olive oil
2 Tb. Worcestershire sauce
2 Tb. Tony's Creole seasoning
2 Tb. lime juice
1 tsp. thyme
1 tsp. garlic powder
1 tsp. sage
Pepper to taste
Directions:
Slice meat into strips.
Make marinade and let meat sit in the marinade, covered, in the fridge overnight.
Set oven at 125 to 140 degrees and dry for 8 – 10 hours. Leave oven door slightly open for ventilation and check periodically. Enjoy!
Get more recipes like this for FREE!
Do you want more recipes like this? Download our Beef Jerky Recipes ebook while it's FREE! But hurry...it's only free for a limited time!
Other Recipes You Might Enjoy
Bugs Bunny Jerky Recipe
Blaine's Buffalo Jerky Recipe
Nebraska Elk Jerky Recipe
Tasty Teriyaki Rabbit Jerky Recipe
5 Gold Stars Buffalo Jerky Recipe
Angie's Buffalo Jerky Recipe
Greatest Beef Jerky Recipe
Caliente Beef Jerky Recipe
Turkey Burger Recipe
Best Ever Beef Jerky Recipe

RSS feed for comments on this post. TrackBack URL
We want to hear about your experiences with our Jerky Recipes! Please leave your comments on any recipe and help other jerky makers be successful. If you decide to buy Beef Jerky online, check out Jerky.com!