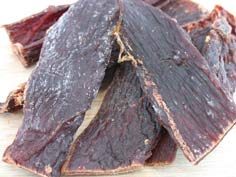 Ingredients:
5 tsp. salt
3 tsp. curry powder
5 tsp. black pepper
1/2 tsp. cinnamon
3 tsp. ground ginger
1/4 tsp. ground cloves
1/2 tsp. cumin
4 cloves pressed garlic
1 cup cream sherry
Directions:
Mix all of the ingredients together that are listed in the recipes and then marinade for 12-24 hrs.
All the ingredients can be adjusted to taste.
Cover tightly and marinate in refrigerator overnight or from 6 to 12 hours.
Remove from marinade and let dry on a rack. Line a cookie sheet with foil and arrange meat on it in a single layer. Or place meat directly on oven racks, line bottom of oven with foil. Or on rack in shallow pan Dry for 6 or more hours at 175, turning after 3 hours. Continue to dry in warm oven if necessary. Gas ovens with pilot lights work especially well. Cool and bag it.
Get more recipes like this for FREE!
Do you want more recipes like this? Download our Beef Jerky Recipes ebook while it's FREE! But hurry...it's only free for a limited time!
Other Recipes You Might Enjoy
Tofu Jerky Recipe
Moroccan Twist Beef Jerky Recipe
Blaine's Buffalo Jerky Recipe
V8 Beef Jerky Recipe
Turkey Burger Recipe
Super Scorchin' Sticks Recipe
1st Place Beef Jerky Recipe
Badgirl BBQ Buffalo Jerky Recipe
Caliente Beef Jerky Recipe
Fruit Jerky Sticks

RSS feed for comments on this post. TrackBack URL
We want to hear about your experiences with our Jerky Recipes! Please leave your comments on any recipe and help other jerky makers be successful. If you decide to buy Beef Jerky online, check out Jerky.com!