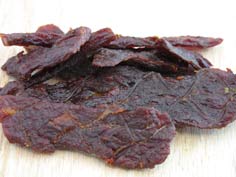 Ingredients:
1 pound of rabbit (or any meat type)
1/4 teaspoon of powdered onion
1 teaspoon of nutmeg
5 teaspoon of pepper
5 teaspoon of dried crushed peppers
10 teaspoon of liquid smoke
1 1/2 cups of soy sauce
5 tablespoons of Worcestershire sauce
4 pressed garlic cloves
Directions:
Once you have deboned your rabbit to the best of your ability, cut into strips ridding all fat.
Mix together all of your ingredients and marinate strips on both sides.
Marinate for at least an hour. Anything past that needs to be covered and placed in the fridge.
Set cooker to lowest temp. and you can either wrap your strips in foil and cook over the racks or hang them from the racks with toothpicks for at least 24 hours.
Once you get the desired smoke flavor you're looking for, you can finish up your jerky in your oven. Set to 150 and lay strips out on foil on the racks for another 4-9 hours depending on your preference. Enjoy!
Get more recipes like this for FREE!
Do you want more recipes like this? Download our Beef Jerky Recipes ebook while it's FREE! But hurry...it's only free for a limited time!
Other Recipes You Might Enjoy
Peter Rabbit Jerky Recipe
Tasty Teriyaki Rabbit Jerky Recipe
Bugs Bunny Jerky Recipe
Reed's Rabbit Jerky Recipe
Filipino Chicken Adobo Jerky Recipe
BBQ Lamb Jerky Recipe
Apple Cider Chicken Jerky Recipe
Homemade Beef Jerky Recipe
Too Good 2B True Teriyaki Ostrich Jerky Recipe
Just Lamb Jerky Recipe

There are no comments yet... Kick things off by filling out the form below
RSS feed for comments on this post. TrackBack URL
We want to hear about your experiences with our Jerky Recipes! Please leave your comments on any recipe and help other jerky makers be successful. If you decide to buy Beef Jerky online, check out Jerky.com!