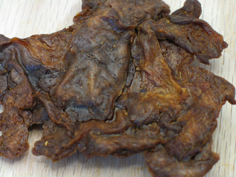 Ingredients:
1 Tb. pepper
1 Tb. onion powder
3 Tb. liquid smoke
1/8 c. water
1/2 c. soy sauce
1 tsp. garlic powder OR 1 crushed garlic clove
1 tsp. honey
1 lb extra firm tofu (not silken type)
Directions:
Slice tofu horizontally into 4 pieces, and then cut into strips (can make up to 12). The strips should be about 4 millimeters in thickness. They're going to shrink a lot in the oven, so they should start out pretty thick.
Mix all the other ingredients together.
Arrange the tofu in a single layer in a shallow baking pan or cookie sheet and pour the marinade over it.
Let it soak for several hours or overnight.
Drain excess liquid and dry tofu in food dehydrator or 200 F oven. This will take 4 – 8 hours.
Flip the tofu over hourly so it dries evenly and dry until it is very chewy, but not crispy. Enjoy!
Get more recipes like this for FREE!
Do you want more recipes like this? Download our Beef Jerky Recipes ebook while it's FREE! But hurry...it's only free for a limited time!
Other Recipes You Might Enjoy
Kid's Favorite Buffalo Jerky Recipe
Original Tofu Jerky Recipe
Blaine's Buffalo Jerky Recipe
Caliente Beef Jerky Recipe
Fruit Jerky Sticks
Low Sodium & Carb. Beef Jerky Recipe
Beef Bouillon Jerky Recipe
A-1 Beef Jerky Recipe
Best Beef Sticks Recipe
Patriot's Buffalo Jerky Recipe

There are no comments yet... Kick things off by filling out the form below
RSS feed for comments on this post. TrackBack URL
We want to hear about your experiences with our Jerky Recipes! Please leave your comments on any recipe and help other jerky makers be successful. If you decide to buy Beef Jerky online, check out Jerky.com!