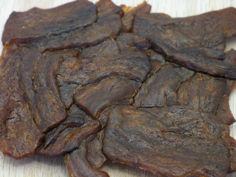 Ingredients:
1 pk (1.5 ounces) instant oatmeal
1/4 cup Water
1/2 cup Applesauce
1/2 cup Teriyaki sauce
2 tablespoon Olive oil
1 teaspoon liquid smoke
1 teaspoon minced garlic
1 teaspoon pepper
1 teaspoon salt
1 lb Soy protein
Directions:
Mix water and oatmeal together.
Add all remaining ingredients, except soy protein. Stir.
Let sit for 10-20 minutes and add soy.
Marinate at least one hour. For longer marinating time, place in the refrigerator in a covered container.
Place in blender and puree. Its color will change from brown to light cream. Form into shapes and place in dehydrator. It dries very fast, so check it often. Enjoy!
Get more recipes like this for FREE!
Do you want more recipes like this? Download our Beef Jerky Recipes ebook while it's FREE! But hurry...it's only free for a limited time!
Other Recipes You Might Enjoy
Fruit Jerky Sticks
College Station Chicken Jerky Recipe
Santa's Reindeer Jerky Recipe
Original Tofu Jerky Recipe
Beef Sticks Recipe
Classic Hawaiian Buffalo Jerky Recipe
Cranberry Thanksgiving Turkey Jerky
Best BBQ Beef Jerky Recipe
Best Beef Sticks Recipe
12th Man Turkey Jerky Recipe

RSS feed for comments on this post. TrackBack URL
We want to hear about your experiences with our Jerky Recipes! Please leave your comments on any recipe and help other jerky makers be successful. If you decide to buy Beef Jerky online, check out Jerky.com!