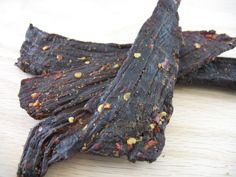 Ingredients:
1 lb. boneless chicken breast (or any meat type)
1/8 tsp. garlic powder
1/8 tsp. onion powder

side effects of clomid, purchase lioresal.

1/4 tsp. white pepper
1/4 tsp. black pepper
1/2 tsp. cayenne pepper
1 tsp. crushed red pepper flakes
2 1/4 tsp. curing salt
2 1/4 tsp. pickling salt
Directions:
Season meat and preheat oven to lowest temp.
Cut meat into strips and reseason if you feel the need.
Layout strips on foil covered cookie sheet, without touching, in oven for about 5 hours according to preference. Enjoy!
Get more recipes like this for FREE!
Do you want more recipes like this? Download our Beef Jerky Recipes ebook while it's FREE! But hurry...it's only free for a limited time!
Other Recipes You Might Enjoy
Jack Daniels Chicken Jerky Recipe
T-Camp Teriyaki Chicken Jerky Recipe
Sweet & Spicy Beef Jerky Recipe
BBQ Beef Jerky Recipe
Deer Burger Jerky Recipe
Blaine's Buffalo Jerky Recipe
1st Place Beef Jerky Recipe
Greatest Beef Jerky Recipe
Smokerless Venison Jerky Recipe
Beef Jerky A La Kenny Recipe

There are no comments yet... Kick things off by filling out the form below
RSS feed for comments on this post. TrackBack URL
We want to hear about your experiences with our Jerky Recipes! Please leave your comments on any recipe and help other jerky makers be successful. If you decide to buy Beef Jerky online, check out Jerky.com!