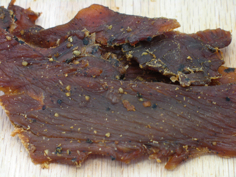 Ingredients:
1 bottle of Allegro Marinade – Original
1 bottle of Szechuan Hot & Spicy
1 Tb. crushed red pepper
2 Tb. liquid smoke
1/4 c. Worcestershire
1/4 c. soy
1/2 tsp. pepper blend
1/2 tsp. cumin
1/2 tsp. black pepper
1/2 tsp. onion salt
Directions:
Mix ingredients to make your marinade and let sit until everything dissolves.
While your marinade is sitting, go ahead and cut up your meat into strips. If you're having a hard time, freeze your meet for about 30 minutes and try again.
Go ahead and marinate your meat and let it marinate as long as you prefer.
Place on your dehydrator racks, without touching, for about 5-9 hours at about 140 degrees. Be sure and check periodically. Everyone likes their jerky differently so, length of dry time is up to you. Enjoy!
Looking to buy turkey jerky? Check out Jerky.com for a wide selection of Gourmet Jerky.
Get more recipes like this for FREE!
Do you want more recipes like this? Download our Beef Jerky Recipes ebook while it's FREE! But hurry...it's only free for a limited time!
Other Recipes You Might Enjoy
Turkey Jerky Recipe
Best Ever Beef Jerky Recipe
Cranberry Thanksgiving Turkey Jerky
Texas Turkey Jerky Recipe
12th Man Turkey Jerky Recipe
Tasteful Turkey Jerky Recipe
Original Turkey Jerky Recipe
Insanely Hot Beef Jerky
Twisted Teriyaki Turkey Jerky Recipe
Thunder Turkey Jerky Recipe

RSS feed for comments on this post. TrackBack URL
We want to hear about your experiences with our Jerky Recipes! Please leave your comments on any recipe and help other jerky makers be successful. If you decide to buy Beef Jerky online, check out Jerky.com!